Entrust Datacard TruCredential Express v7 ID Card Software
Our Price: CA $

156.19

Need more help? Call

1.866.458.6999

or

Live Chat

Ref:

722080

In Stock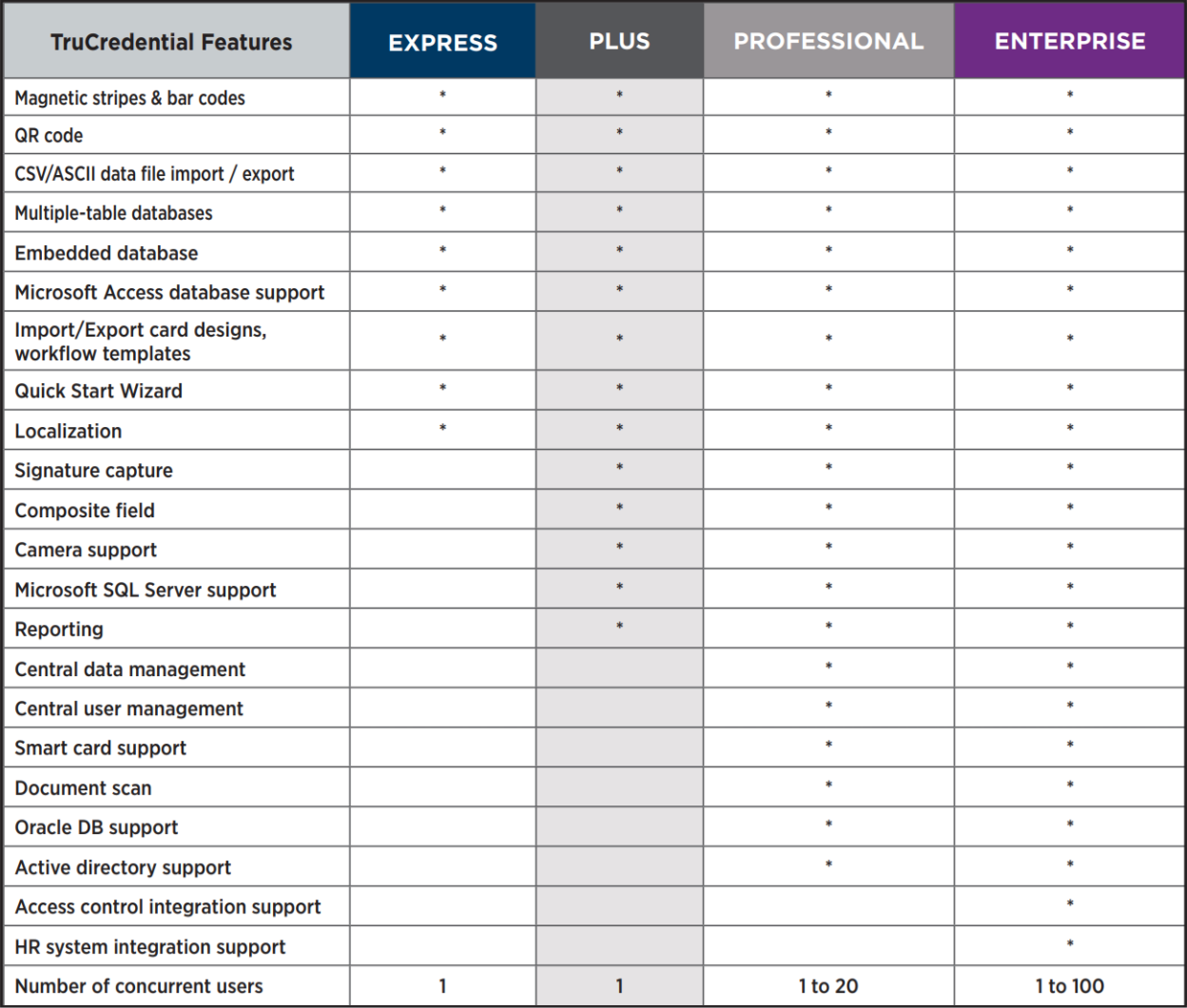 Entrust Datacard TruCredential Express entry-level ID card software is a web-based application and was created for a single-user. It provides the core tools to easily design, print, and manage an ID card issuance program for small-to-medium-sized organizations. TruCredential Express offers basic photo capture and data import, as well as the ability to incorporate encoding, helping you create secure and professional-looking credentials.
Great user interface
TruCredential Express Software provides a variety of unique capabilities to streamline the production of your ID card program. The ideal choice for users beginning an ID issuance program, Express is designed with a Quick Start Wizard and user-friendly interface that are simple to navigate. TruCredential Express allows you to create crisp, colorful IDs for your entire organization on your own, or with the easy-to-use pre-designed ID card templates included with your software.
More advanced security capabilities
Unlike most entry-level ID card software, Entrust Datacard TruCredential Express is equipped with encoding options which allows you to add more layers of security to your ID cards, including:
2D formats: Data matrix, PDF 417, and QR Code
magnetic stripe
In addition, you can enhance the functionality of cards by seamlessly importing photos, cardholders data such as name, title, and important documents to personalize each card.
Basic data management
Store your various credential projects with Microsoft Access database drivers. With the embedded database, you can build multiple-table databases to get your project started quickly and easily.
Quick and easy version upgrades
Getting the latest version of Entrust Datacard TruCredential Express Software is fast and easy since it's a web-based application. Should your credential requirements increase or change over time, simply upgrade to the TruCredential Plus for added features and functionality.
Database
Create an internal database or import a microsoft Access Database
Rating 1

Rating 2

Rating 3

Rating 4

Rating 5

0 Votes
Product Reviews
You must be logged in to write a review.