Entrust Datacard TruCredential Professional v7 ID Card Software
Our Price: CA $

1,780.54

Need more help? Call

1.866.458.6999

or

Live Chat

Ref:

7220XX

In Stock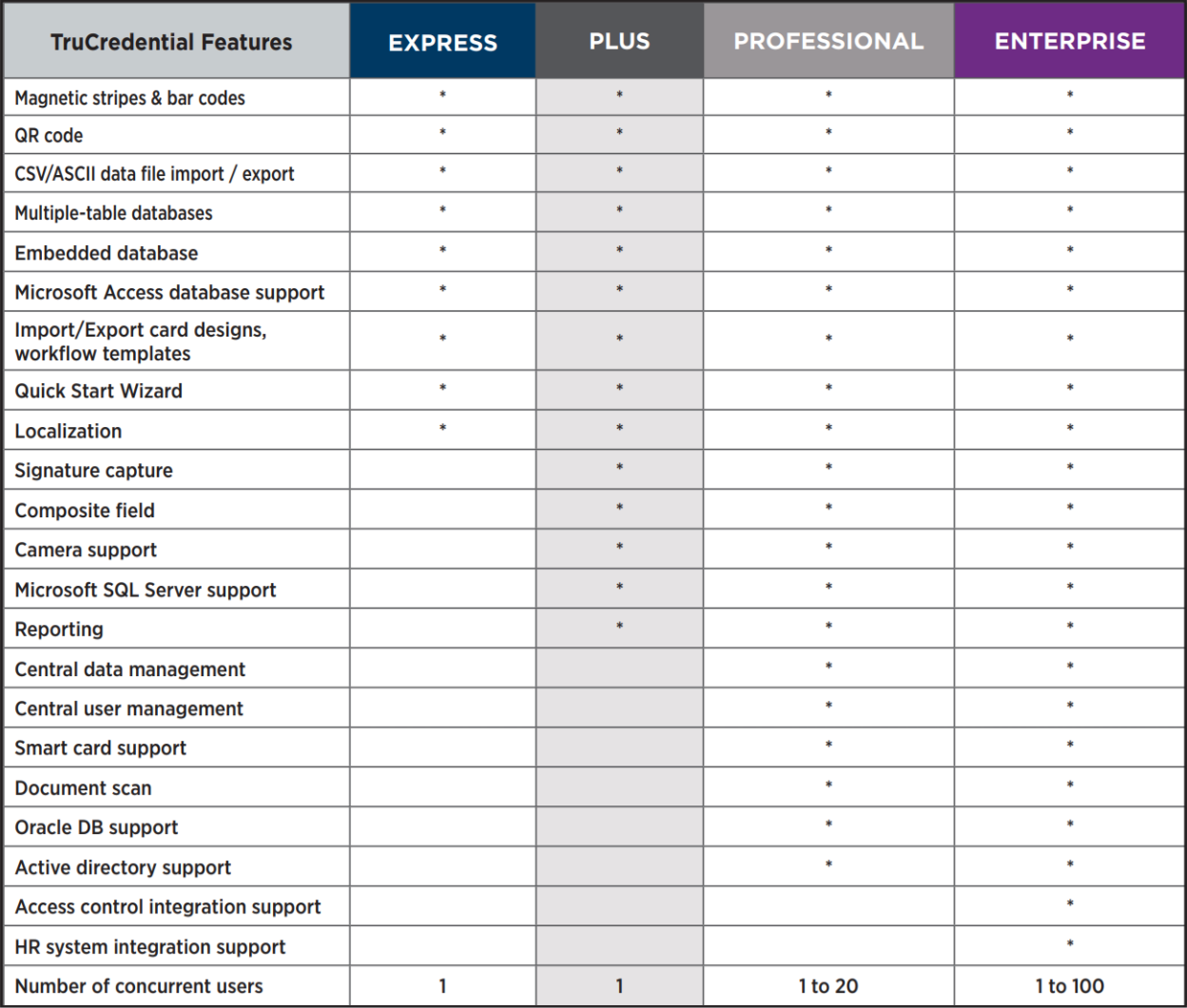 Entrust Datacard TruCredential Professional ID card software is a web-based application, created for a multi-user environment. As your ID card issuance program expands, it provides the essential tools to enhance your capabilities of designing, printing, and managing cards for medium-to-large-sized organizations. TruCredential Professional offers advanced photo capture, various database options, reporting features, and signature capture, as well as the ability to incorporate encoding, helping you create professional-looking credentials. In addition, the Professional version supports scanning documents and using smart cards, and it increases your flexibility with user rights management.
Great user interface
TruCredential Professional Software provides a variety of unique capabilities to streamline the production of your ID cards. The ideal choice for users looking to elevate their ID issuance program, Professional is designed with a Quick Start Wizard and user-friendly interface that are simple to navigate. It allows you to create crisp, colorful IDs for your entire organization on your own, or with the easy-to-use pre-designed ID card templates included with your software.
More advanced security & encoding capabilities
Equipped with encoding options to help safeguard your ID cards, Entrust Datacard TruCredential Professional offers an array of security options such as:
2D formats: Data matrix, PDF 417, and QR Code
Magnetic stripe encoding
Smart Card encoding
Add an additional layer of security to help prevent counterfeit cards with signature capture technology. Entrust Datacard TruCredential Professional grants you full design control to add signatures to the front or back of your ID cards.
Easily design field layouts
The unique composite fields feature allows you to connect multiple fields into a single field within the workflow, such as combining ''First Name'' and ''Last Name'' fields so that they both appear on one line. You can also control which order the data fields are displayed on your ID card, regardless of the order in which they are listed in your software, providing increased flexibility with the card's layout.
Seamless DSLR camera integration
TruCredential Professional offers users the ability to support DSLR cameras, which offer a superb level of photo quality. This functionality to interface directly with DSLR cameras helps capture crisp, professional-looking images and load them directly into your ID card software.
Extensive reporting resources
Equipped with reporting capabilities, the Entrust Datacard Professional edition allows you to easily aggregate meaningful data based on your organization's unique reporting needs. Reports can be generated with custom layout, header, footer, data fields, and export into a PDF document when you are ready to share them.
Robust Database and Server Support
Conveniently connect to your TruCredential Professional web-based application with Microsoft SQL Servers. Store your credential projects with applications such as Microsoft Access, Oracle, and an active directory.
Centralized user management
Designate and manage TruCredential Professional user rights within the application to support your organization's needs. This features helps you easily delegate specific functions for all of your users, as well as allows users to reset their own passwords.
Document scan
Scan important documents such as a driver's license, and import the data directly into TruCredential Professional software.
Quick and easy version upgrades
Getting the latest version of Entrust Datacard TruCredential Professional Software is fast and easy since it's a web-based application. Should your credential requirements increase or change over time, simply upgrade to the TruCredential Enterprise for added features and functionality.
Database
Create an internal database or import a Microsoft Access, Oracle, or Microsoft SQL Database
Rating 1

Rating 2

Rating 3

Rating 4

Rating 5

0 Votes
Product Reviews
You must be logged in to write a review.