Zebra CardStudio Classic ID Card Software
Our Price: CA $

139.00

Need more help? Call

1.866.458.6999

or

Live Chat

Ref:

ZEB-CS-Classic

In Stock
Provides easy-to-use tools with a short learning curve that will enable you to get your card personalization application up and running with little time, costs or effort — CardStudio Classic offers a spectrum of powerful design and printing tools
CardStudio 2.0 brings a new level of simplicity to the design and printing of every card — from simple to sophisticated. Whether you are printing a handful of single-side monochrome cards or thousands of encoded double-side full color cards with specialty security effects and dynamic data, the well-designed highly-intuitive interface virtually eliminates the need for technical expertise and training. And CardStudio can grow with you as your business needs change. With four Editions, you can buy the features you need today and upgrade instantly to unlock advanced features whenever you need them, ensuring that the card printing software you invest in today will meet your needs now and in the future. CardStudio 2.0 — card creation made easy.
Easily create any card design The highly intuitive user interface makes it easy for virtually anyone with any level of experience to create the most complex cards. We give you a head start: Zebra's sample cards provide a convenient starting point. Just choose the card most closely aligned with the card you want to create, instead of starting with a blank slate.
Easy to learn Interface
Simple, easy to learn user interface for both Card Design (DesignStudio) and Card Issuance (PrintStudio). Easy to add unique security and design features using new Specialty Ribbons. Separation of Card Design and Card Issuance allows for better security and accommodates various types of enterprise Card print/issuance workflows.
Support for today's advanced ribbons for more sophisticated designs
Easily incorporate Zebra's latest specialty ribbons into your card designs, including metallic, 3D graphics, color-shifting graphics, watermarks and more.
Live card preview
Whether you are capturing and integrating data on the fly, such as a signature, or incorporating data from enterprise back end databases, you can see a live preview of your card designs, making it easy to adjust design as needed before finalizing.
Easy integration of data from all your data sources
With a complete suite of database integration tools and capabilities, you can automatically create cards with virtually any existing enterprise data, including text, graphics, photos and other information from virtually any data source — from backend databases to spreadsheets. And you can connect to as many data sources that you need, allowing you to simplify the aggregation of data into your cards.
Advanced database and data connectivity features such as ODBC external database integration and encoding wizard for easy integration of SmartCards means CardStudio 2.0 meets advanced needs of ID card design and issuance.
Capture and integrate new data into your cards
on the fly Improve access control by capturing and incorporating photos and signatures into your ID cards. Just upload photos and signatures and crop as desired — or let CardStudio automatically recognize and cropin on facial photos.
All the encoding options you need
With support for the MIFARE family of contactless cards, including DESFire, you can choose the encoding option that matches the level of security your cards require.
Design cards quickly and easily
The framework showcases a pleasant neutral background that allows your design work to popout and be the focus. At the same time, all of your design tools are readily available for your use. Everything you need is quickly and efficiently provided to you via intuitive icons and menus without the distraction of pop-ups over your work. Plus, CardStudio Classic software shows you real time results as you are working, so you'll know exactly how your card design is coming together.
Its innovative dashboard provides you quick access and full control over your card objects, and offers an array of tools to helpyou achieve your desired colors and effects.

Likewise, the imager tool provides the ability to capture, edit and improve your image's properties with dozens of functions specifically tailored for photo ID image capturing. CardStudio Standard software allows you to import images in multiple file formats and perform image acquisition using your scanner, digital camera or any TWAIN device (e.g., inPhoto Capture or inPhoto ID software). Plus, with its clipart library and comprehensive clipart manager capabilities, you are able to use and store your own imagery in addition to the default imagery.

Access flexible printing features
CardStudio Standard software allows you to really utilize the real estate of your cards because you have the power to design and print on both sides of your cards. With CardStudio Classic's Direct Command Language (DCL) and its Microsoft Windows printer drivers, you are able to achieve maximum print speeds and error control.
Create feature-rich cards
Supports the major 1-D and 2-D barcode printing symbologies, including PDF417 2-D barcodes that perform facial image encoding.
Upgrade any time
If you are already using a version of CardStudio software, it is easy to upgrade to any edition of CardStudio.
Install with ease
Zebra's software and upgrades are conveniently delivered via a serial number that is used for registration and install.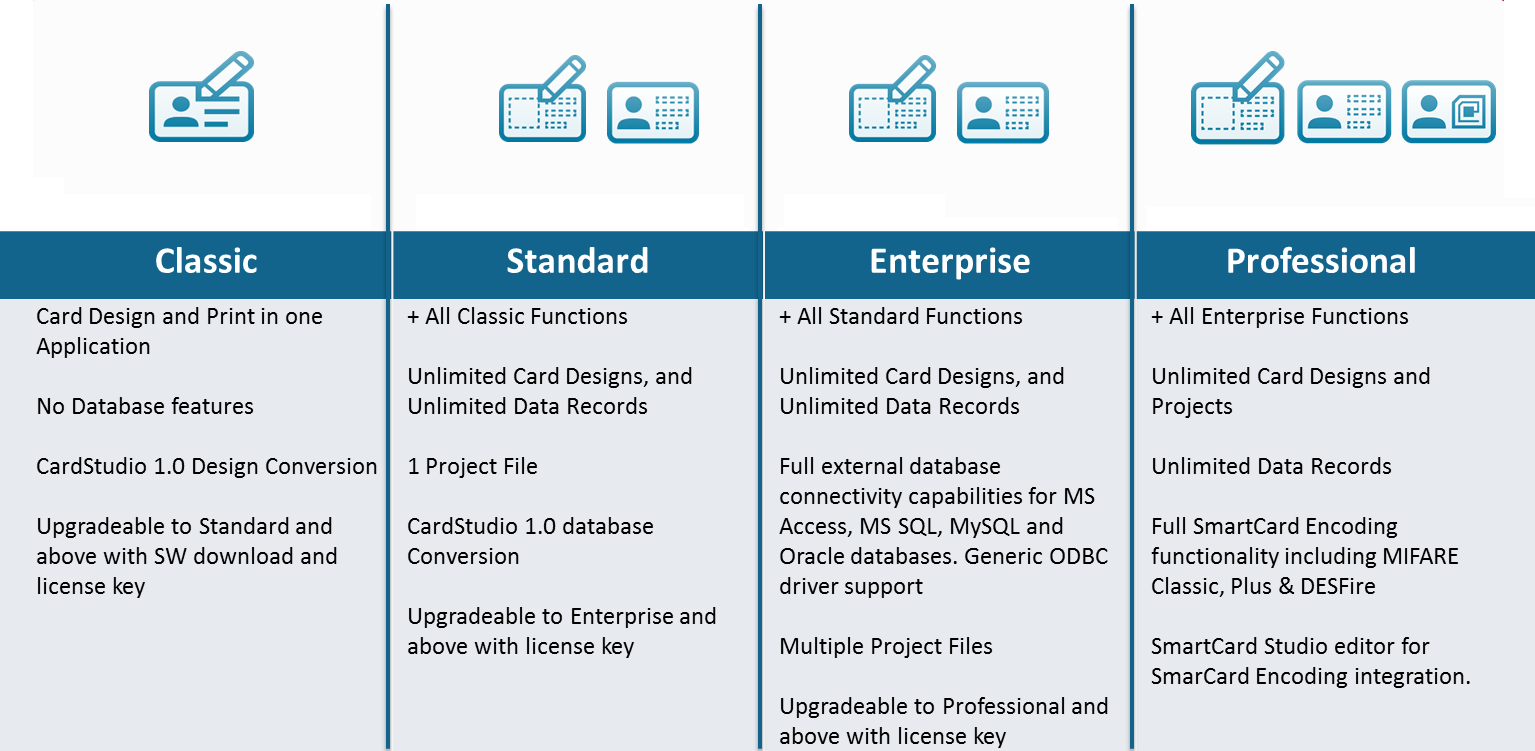 Rating 1

Rating 2

Rating 3

Rating 4

Rating 5

0 Votes
Product Reviews
You must be logged in to write a review.