At your service today—and in the future.
With all the possibilities it offers, Primacy 2 can meet all the needs you have today. And those you have in the future too. How? Thanks to its many features that can easily be added throughout its life: double-sided printing, 200-card feeder, encoders, lamination module, and LCD panel. You can install these new options yourself very easily, and from the comfort of your own premises.
The durability of Primacy 2 is also achieved thanks to its robustness. That's why we've optimized the printhead protection to give it an even longer life. You can also count on the 3-year warranty and even opt for an additional extension for even more peace of mind.
Printing technologies, plus rewriting.
Primacy 2 incorporates the printing technology of sublimation to create your color cards and thermal transfer for your monochrome cards. In addition to these 2 technologies, we offer you a further step. With Primacy 2, you can also print on rewritable cards with our rewrite technology. This feature, available as standard on Primacy 2, allows you to print, erase, and reprint the same card in a matter of seconds.
This economical and practical use is particularly relevant when issuing temporary cards and badges or those that are likely to be updated regularly (visitor badges, student cards, loyalty cards, etc.).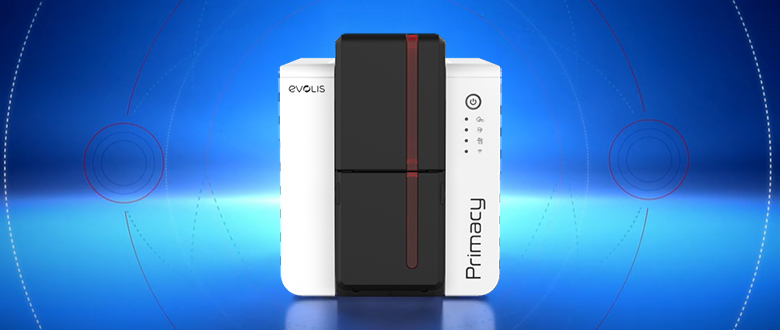 No need to choose between quantity and quality.
Primacy 2 gives you both: an output capacity suitable for medium to large runs and high-quality printing.
Its printing speed of up to 280 cards per hour, combined with its 100- or 200-card feeder (option), are the two major assets of the Primacy 2 that allow it to reach a high level of productivity and autonomy. Alongside this, its high-resolution printing mode coupled with its colorimetric profile as close to real-life colors as possible allows you to obtain a high-quality rendering on all your cards.
A high-performance printer
With one of the fastest print speeds on the market and a high-capacity feeder and hopper, Primacy 2 is the ideal solution for medium and large-volume printing. Its high-resolution printing mode and color profile capabilities produce stunning results, close to actual colors with a high-quality finish.
Easily create your own cards with an appropriate level of security
From the simplest to the most secure cards, Primacy 2 can do it all. Customized graphics (colors, photos, personal data), encoding of magnetic stripes, contact or contactless chips, holograms, protective laminates, UV effect, etc. You can choose the level of security depending on your requirements.