Evolis Primacy 2 Simplex Expert - Single Sided System
Our Price: CA $

2,209.00

Add to Basket

Additional configuration options are available for this product - Please see below.

Need more help? Call

1.866.458.6999

or

Live Chat

Ref:

EV-PM2-0001-A-SYS
The Evolis Primacy 2 Simplex Expert - single-sided card printer is one of the fastest print speeds on the market, Primacy 2 is the ideal solution for medium and large-volume printing.
Evolis Primacy 2 Single-Sided Card Printer allows for flexible, intuitive and cost-effective printing.
System Includes:
Evolis Primacy 2 , Single-Sided printer
Avon CardPresso Card Design Software
100 Blank PVC Cards
Evolis 200 print Full Colour YMCKO Ribbon
Microsoft LifeCam 1.3 Megapixel Webcam
Rating 1

Rating 2

Rating 3

Rating 4

Rating 5

0 Votes
At your service today—and in the future.
With all the possibilities it offers, Primacy 2 can meet all the needs you have today. And those you have in the future too. How? Thanks to its many features that can easily be added throughout its life: double-sided printing, 200-card feeder, encoders, lamination module, and LCD panel. You can install these new options yourself very easily, and from the comfort of your own premises.
The durability of Primacy 2 is also achieved thanks to its robustness. That's why we've optimized the printhead protection to give it an even longer life. You can also count on the 3-year warranty and even opt for an additional extension for even more peace of mind.
Printing technologies, plus rewriting.
Primacy 2 incorporates the printing technology of sublimation to create your color cards and thermal transfer for your monochrome cards. In addition to these 2 technologies, we offer you a further step. With Primacy 2, you can also print on rewritable cards with our rewrite technology. This feature, available as standard on Primacy 2, allows you to print, erase, and reprint the same card in a matter of seconds.
This economical and practical use is particularly relevant when issuing temporary cards and badges or those that are likely to be updated regularly (visitor badges, student cards, loyalty cards, etc.).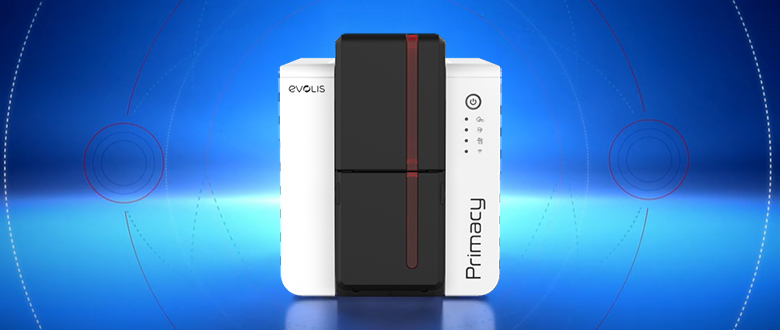 No need to choose between quantity and quality.
Primacy 2 gives you both: an output capacity suitable for medium to large runs and high-quality printing.
Its printing speed of up to 280 cards per hour, combined with its 100- or 200-card feeder (option), are the two major assets of the Primacy 2 that allow it to reach a high level of productivity and autonomy. Alongside this, its high-resolution printing mode coupled with its colorimetric profile as close to real-life colors as possible allows you to obtain a high-quality rendering on all your cards.
A high-performance printer
With one of the fastest print speeds on the market and a high-capacity feeder and hopper, Primacy 2 is the ideal solution for medium and large-volume printing. Its high-resolution printing mode and color profile capabilities produce stunning results, close to actual colors with a high-quality finish.
Easily create your own cards with an appropriate level of security
From the simplest to the most secure cards, Primacy 2 can do it all. Customized graphics (colors, photos, personal data), encoding of magnetic stripes, contact or contactless chips, holograms, protective laminates, UV effect, etc. You can choose the level of security depending on your requirements.
GENERAL FEATURES
Color sublimation directly on the card and resin thermal transfer
Rewritable card printing
Single or double-sided print module
Print resolution:
In color and monochrome: 300x300 dpi & 300x600 dpi
In monochrome: 300x1200 dpi
Print optimization via color profile
User interface: LED panel or LCD touch screen
PRINT SPEED
Single-sided (YMCKO): up to 280 cards/hour
Double-sided (YMCKOK): 170 cards/hour
Single-sided (YMCK) with lamination module: up to 215 cards/hour
CARD MANAGEMENT AND SPECIFICATIONS
Feeder capacity: 100 cards (0.76 mm – 30 mil)
Hopper capacity: 100 cards (0.76 mm – 30 mil)
Rear hopper capacity: 50 cards (0.76 mm – 30 mil)
Card types: PVC cards, Composite PVC cards, PET cards, ABS cards, and rewritable card
PORTS/CONNECTIVITY
USB (cable supplied) and Ethernet
Wireless connection 802.11b/g on Wireless range
EVOLIS HIGH TRUST® RIBBONS
To maximize the quality and lifetime of the printed cards, the service life of the print head, and the overall reliability of your printer, use Evolis High Trust® ribbons.
Automatic recognition and setup
Ribbon cassettes for one-step installation or an EASY4PRO offer without cassette for users who want to reduce their environmental impact.

YMCKO: 300 prints per roll
YMCKOK: 200 prints per roll
YMCKOO: 250 prints per roll
Black monochrome: 2000 prints per roll 1
LAMINATION (OPTION)
Standard single and double-sided
Extensive laminate offering: patches (600 sides per roll) and varnishes (1,200 sides per roll), with or without hologram, alternate laminates (contact chip cut-out / magnetic stripe cut-out).
OPTIONS INTEGRATED ON-SITE
Double-sided activation key
200-card feeder
LCD touch screen
Lamination module
SECURITY
Kensington® security lock
Optional mechanical locking system
Print head protection during maintenance or ribbon changes
Erasing sensitive data from the printer memory
Kineclipse® optional
Optional internal scanner reader
ENCODING MODULES
Magnetic stripe encoder ISO 7811
Contact smartcard encoders
Contactless smartcard encoders
Dual smartcard encoders (contact / contactless)
Options can be combined
Factory or on-site installation
SOFTWARE
Printer management by Evolis Premium Suite for Windows, Mac, and Linux
Evolis SDK available for easy product integration
Supplied with:

IDpack in the Cloud - IDC Basic

(1-year subscription) 3

cardPresso XXS
WARRANTY CONDITIONS
3 years for the printer 2
Optional extended warranty available
* Available on some models or as an option
1 Under certain conditions.
2 Warranty subject to strict compliance with specific usage conditions and use of Evolis High Trust® ribbons.
3 IDpack in the Cloud does not support encoding options yet.
Product Reviews
You must be logged in to write a review.