Fargo DTC5500LMX ID Card System (Dual Sided)
Our Price: CA $

5,727.20

Add to Basket

Additional configuration options are available for this product - Please see below.

Need more help? Call

1.866.458.6999

or

Live Chat

Ref:

FGO-56305-SYS

In Stock
The Fargo DTC5500LMX direct-to-card printing and wasteless lamination solution offers a cost-effective, ultra-durable design for high-quality and high-volume ID card production. This rugged, yet stylish printer is one of the first to comprise HID Global's new Professional Select Series of printers. The DTC5500LMX is an ideal solution for corporations, universities, and government or healthcare facilities.
System Includes:
Fargo 5500LMX dual sided printer
YMCKO Full Color Ribbon
Clear Laminate Ribbon
Avon CardPresso Card Design Software
100 Blank PVC Cards
Microsoft LifeCam 1.3 Megapixel Webcam
Supports Microsoft Windows Vista, 7, 8, and 10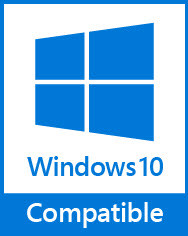 Rating 1

Rating 2

Rating 3

Rating 4

Rating 5

1 Votes
Need a replacement Printhead? To find the right one for your printer, click here
---
High Volume Heavy duty construction:
The DTC5500LMX is designed with high volume printing in mind. With speeds of up to 600 cards per hour for monochrome cards, large batches can be printed in record time. The new laminator includes iON technology that allows the laminator to warm up in less then a minute, reducing downtime and optimizing efficiency.
Building on the extremely popular, but now discontinued, Fargo DTC550 printer, the DTC5500LMX is made of a heavy duty metal and plastic body that is designed to give optimum performance, even in harsh , while providing extreme durability. Fargo backs up the DTC5500LMX with a three year manufacturers warranty and a lifetime warranty on the printhead.
All in one printing & lamination:
With the DTC5500LMX, dual-sided printing and dual-sided lamination come standard. The DTC5500LMX 56305 is extremely flexible and can be loaded with two different types of laminates at the same time. This gives you the ability to use different laminates on the front and backs of the cards if you desire. The laminator on the Fargo 56305 is extremely easy to use, with included sensors that automatically advance laminate patches through the printer and align the patches for proper results. The DTC5500LMX includes two major innovations for lamination technology:
Wasteless Lamination:
Normal card laminators function utilizing a laminate supply roll that holds the fresh laminate patches on a carrier film, and a pickup core that winds up the carrier film after the laminate patches have been removed from it. The new DTC5500LMX wasteless lamination solution removes both the pickup core and the laminate carrier film. The wasteless laminate patches are advanced from the supply roll with no carrier film, and with no carrier film there is no need for a pickup core. When the roll of laminate patches has been exhausted, all that needs to be discarded is the empty supply roll.
Wasteless lamination has more benefits than the environmental aspects. Having no carrier film or pickup core also reduces the cost to produce laminates. This cost reduction has been passed on to the end user in the form of lower cost laminates. This alone can make it worth the upgrade to the DTC5500LMX over other laminating printers such as the DTC4500e, aside from other cost savings from the durability and lower energy consumption.
The wasteless laminate patches utilized with the DTC5500LMX offer several benefits over similar products on the market. The wastless patches have rounded corners. Compared to square cornered patches, rounded corner patches can be produced to cover more of the patch without hanging over the edge. This results in a coverage of 95.5% compared to 88% coverage from competing products. The DTC5500LMX is able to advance laminates without the need for notches in the patch, resulting in better coverage. Better coverage results in a better protected card.
iON Technology:
The laminator in the DTC5500LMX 56305 utilizes HID Fargo's new iON technology. iON technology drastically reduces the warm up time of the laminator from an average of 2-5 minutes to around 40 seconds. This can have a dramatic improvement in productivity in intermittent issuance environments such as DMV's and university campuses where their may be a delay between printing each card while paperwork is filled out or payment is processed. iON technology also allows the printer to control and optimize the laminators temperature so that you always receive optimal results.
Direct-to-card printing with rewrite ability
The Fargo 56305 builds upon Fargo's 20 years of direct-to-card expertise. The DTC5500LMX combines advanced technology with proven reliability to save you time and money. Direct-to-card printers use a thermal printhead to print directly from printer ribbon to card. The same printhead can be used to erase and rewrite cards (requires rewritable cards) which are an excellent solution and cost saver for issuing temporary cards to visitors.
Flexible supplies for unique needs
The DTC5500LMX can utilize over a dozen different ribbons and laminates to satisfy the unique needs of your card printing environment. Whether that includes full color cards, half panel or monochrome cards, their is a ribbon. Lamination is just as flexible, with laminate options including full card, smart chip cutouts, and half patch laminates. The 56305 can even utilize two different types of laminates at the same time, allowing each card to have a separate type of laminate on each side of the card.
Product Reviews
You must be logged in to write a review.