Fargo HDP5600 ID Card System, 600DPI (Dual-Sided)
Add to Basket

Additional configuration options are available for this product - Please see below.

Need more help? Call

1.866.458.6999

or

Live Chat

Ref:

FGO-93640-SYSTEM

In Stock
The FARGO® HDP5600 ID Card Printer and Encoder is a cost-effective and reliable solution that features a high resolution 600 dpi printing option for superior text and image quality. This all-in-one solution is ideal for government agencies, universities, corporations and healthcare facilities that need to routinely produce large volumes of high definition IDs or multi-function smart cards.
With the new HPD5600, you can print clear, crisp images, text and barcodes – even precise, complex characters such as Kanji, Arabic or Cyrillic are clearly defined and easy-to-read. And because the HDP5600 also features a versatile, modular design, you can field-upgrade the printer as your needs change.
System Includes:
Fargo HDP5600 colour, Dual-sided printer
Avon CardPresso Card Design Software
100 Blank PVC Cards
Fargo 500 print Full Colour YMCK Ribbon and 1500 Print Retransfer Film
Microsoft LifeCam 1.3 Megapixel Webcam
View Specification Sheet
View Printer Brochure
Supports Microsoft Windows Vista,7, 8, and 10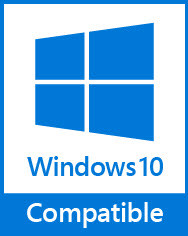 Rating 1

Rating 2

Rating 3

Rating 4

Rating 5

1 Votes
Need a replacement Printhead? To find the right one for your printer, click here
---
Ramp up your security efforts and create durable, multi-use cards with the Fargo 93640 HDP5600 dual-sided printer. The Fargo 93640 exhibits several enhanced features, including a modular design, light-weight construction, built-in Ethernet connectivity, and Fargo's fastest HDP print speeds to date. Backed by an industry-leading three-year warranty, the Fargo HDP5600 printer offers features that you need today, while offering flexibility to meet the needs of tomorrow.
Product Features
High-Definition Retransfer Printing (HDP)
Fargo HDP printers use retransfer technology. Retransfer (also known as "reverse transfer") is a card printing method that produces rich, vibrant, saturated color on cards. Direct-to-card printers print images directly onto the surface of the card which can affect image quality and even cause printhead damage if you are using cards that have smart chips or embedded antennas and circuits. In contrast, retransfer printers print images on retransfer film that is then fused to your card via heat and pressure, producing flawless printing on any surface.

HDP retransfer film provides an additional benefit of adding durability and protection to your cards. It acts as a buffer from everyday wear and tear. Plus it's highly tamper-evident; if a counterfeiter attempts to peel apart the layers, the image will be destroyed.
The HDP5600 dual-sided printer provides easy-to-understand status messages and instructions via its SmartScreen LCD panel with multiple language options.
Built-In Ethernet Connectivity
Your card issuance application does not have to be limited to a stand-alone badging station. Operate your card printing and encoding application safely and seamlessly on a single printer or over your network with the HDP5600 dual-sided printer's built-in USB and Ethernet connectivity and internal print server.
Easy-To-Use Secure Supplies
The Fargo HDP5600 93640 printer is easy to operate and maintain. Cards, ribbons and lamination are cartridge-based, allowing for snap-in replacement and elimination of torn, wasted materials. Printer cleaning is just as worry-free. Fargo includes a new cleaning roller with each ribbon purchase, making it easy to replace the roller each time you load a new ribbon. For added data security, the Fargo HDP5600 93640 offers AES256 data encryption and resin ribbon erase.
Optional Dual-Sided Printing (Field-Upgradeable)
Duplex printing allows for more space for additional card holder information or security features. The modular design of the HDP5600 allows you to upgrade to dual-sided printing any time!
Save substantial time printing and encoding your cards in one pass. The modular design of the HDP5600 allows you to add encoding any time!
Looking for an additional layer of durability and security? Overlaminates provide tamper-proof, secure cards resistant to forgery. The modular design of the HDP5600 allows you to add lamination any time!
Product Reviews
You must be logged in to write a review.