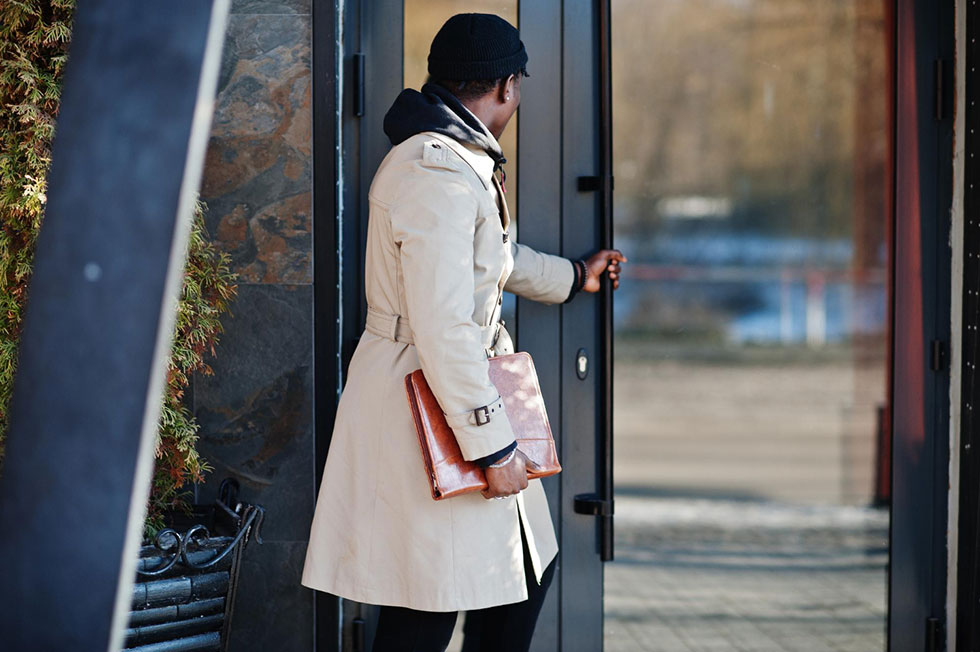 Keeping track of who is entering and leaving your building is virtual for all commercial properties. Visitor check-ins have traditionally been a manual process that involves signing a paper register, providing a form of identification, and waiting for security personnel to verify the visitor's credentials. However, this process can be time-consuming and inefficient, leading to long wait times and potential security risks.
If the entrance is left unsupervised, some visitors may use the pen-and-paper sign-in system, resulting in sloppy writing, damage to the paper, or loss of the document with the details.
Some visitors may also consider this the opportunity to manipulate and disguise their information or enter without signing in, making the building vulnerable to security threats.
Implementing an effective ID card system can reduce the risks associated with a pen-and-paper sign-in system and allow you to secure your building. Learn how ID cards can streamline the visitor check-in process below.
Faster Check-in
The manual process of signing into a commercial building can be time-consuming, requiring you to sign your name, input your details, and wait for the security personnel to verify the information. People usually visit commercial buildings with a purpose and have time constraints. The manual process can slow them down and disrupt their day. With ID cards, visitors can quickly provide their identification, and the security personnel can quickly verify the visitor's credentials.
At Avon Security Products, we aim to provide clients with the best security products that streamline the visitor check-in process while enhancing office security. We offer a wide range of visitor products, such as printable visitor pass rolls, TEMPBadge expiring or non-expiring badges, visitor sticker books, and visitor system hardware. Contact our ID card experts to find the ideal product for your facility based on your unique needs.
Improved Security
One of the most incredible benefits of an ID card system is its contribution to the safety and security of everyone in the building. Providing visitors with ID cards makes it easy to identify who is authorized to be in the building and who is not. This can help prevent unauthorized access to the building, ensuring only authorized personnel are allowed in. Sometimes, if unauthorized individuals enter the building and connect to the Wi-Fi, intellectual property and trade secrets could be compromised, which is another reason to control access to the building.
Explore the different products we offer and choose an ID card system based on your facility type, size, and level of security needed. For example, you can need a more advanced system to increase school campus security as kids are involved. The last thing parents would want is to drop their kids off at a campus where visitor access isn't adequately controlled. With an efficient ID card system, authorities can identify who is authorized to enter the building and ensure that individuals with visitor badges pick up kids.
Options to Customize
Our ID cards can be customized to include specific information about the visitor, such as the visit's purpose and the meeting's location. This can improve visitor and host communication and make the check-in process more efficient.
You can also include additional safety features, such as magnetic stripes, holographic prints, and watermarks, to enhance security and reduce the risk of visitor card duplication.
Easy to Manage
Managing visitor information is much easier with an efficient ID card system. The data can be stored in a database, making tracking visitors and their movements throughout the building easy. This can improve overall security and ensure the building is safe for everyone.
You can also offer visitor lanyards to individuals with ID cards to ensure all staff know when an authorized individual is in the building. This also reduces the risk of unauthorized entries, as staff members will know that an individual without a visitor lanyard may not have been authorized to enter.
ID cards can streamline the visitor check-in process and improve security. By providing visitors with ID cards, the check-in process can be faster and more efficient, improving the overall visitor experience.